When the town of Pittsboro got a piece of the World Trade Center, they got a much larger piece than they anticipated. The large steel beam was delivered in 2011 by a semi-trailer and it was set up as a memorial to the attacks of September 11, 2001. The beam is angled towards its original home in New York City.
However, as it sat there was something missing from the memorial: lighting. Chatham County had difficulty fundraising the necessary funds to completely finish the project. This is where United Solar Initiative stepped in to provide lighting to this somber reminder of the attacks. USI used donations from various sources to set up a few solar panels that power four lights at the memorial site. These lights and a battery ensure that the flag behind the memorial is lit continuously, while the memorial itself is lit until late evening.
Help from United Solar Initiative enabled the memorial to take another step towards completion. Companies donated their materials and money, and solar workers donated their time to help shine a light on the great sacrifices made by the firefighters during the attacks of 9/11.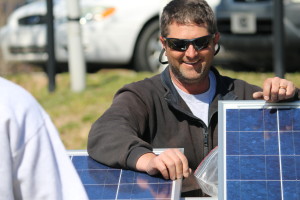 Article By: Karen Klepacz